The most marvelous cheesecake maker in Cincinnati is also the most generous!
Maggie Neumann of Maggie's Marvelous Mini Cheesecakes presents friend and May We Help board member, John Mock, with a check for $1,400.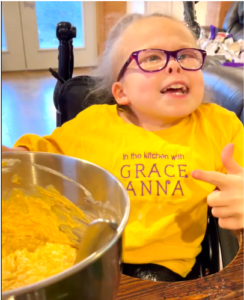 Maggie Neumann, the owner of Maggie's Marvelous Mini Cheesecakes, donated $1,400 to May We Help, which represents 20% of all her sales and tips for May and June.
Each month, Maggie does this for charities that are important to her, and everyone at May We Help is grateful to Maggie for selecting us!
Maggie's kindness and generosity translate into lives transformed by May We Help volunteers, who design, build, and deliver one-of-a-kind custom solutions for people with disabilities.
In fact, one of the projects Maggie's generous donation was put towards was a kitchen workspace for online cooking sensation Grace Anna!
Want to try Maggie's cheesecakes for yourself?! Want to meet Grace Anna?! Then come to May We Help's annual Reach Beyond Gala on August 28th, where Maggie will be serving her cheesecakes and Grace Anna will be the keynote!