March Deliveries
Independence & Mobility
Improving mobility is a key factor in creating independence. The project deliveries in March 2017 were incredibly successful with making a difference with these two youngsters.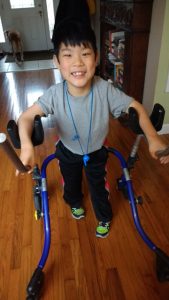 Walker for Joey
Nothing but smiles as Joey uses his new walker to chase his siblings around the house! This is the first time he has had this level of independence with getting around as he typically relies on his wheelchair.
Thanks to the work of May We Help Volunteers Chris Garner and Tom Fitzgibbons Joey is on the go and loving it!
Joey's mother expresses her appreciation;
"He is on the move!! We can't thank you enough, he is thrilled!!!"
– Jen Coleman
---